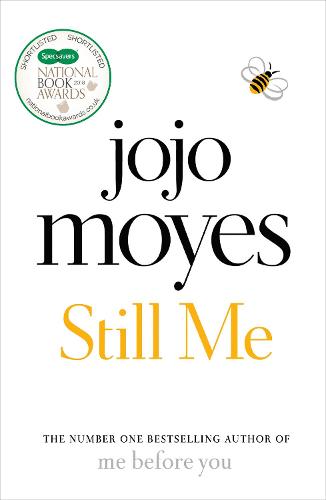 Title | Still Me
Author | Jojo Moyes
Pages | 480 pages
Series | Me Before You, #3
Publisher | Penguin Books
Release Date (UK) | January 25th, 2018
Release Date (US) | January 30th, 2018
Find it on Goodreads, Amazon and Waterstones
From the sensational #1 New York Times bestselling author Jojo Moyes, a new book featuring her iconic heroine of Me Before Youand After You, Louisa Clark

Louisa Clark arrives in New York ready to start a new life, confident that she can embrace this new adventure and keep her relationship with Ambulance Sam alive across several thousand miles. She is thrown into the world of the superrich Gopniks: Leonard and his much younger second wife, Agnes, and a never-ending array of household staff and hangers-on. Lou is determined to get the most out of the experience and throws herself into her job and New York life within this privileged world.

Before she knows what's happening, Lou is mixing in New York high society, where she meets Joshua Ryan, a man who brings with him a whisper of her past. In Still Me, as Lou tries to keep the two sides of her world together, she finds herself carrying secrets–not all her own–that cause a catastrophic change in her circumstances. And when matters come to a head, she has to ask herself Who is Louisa Clark? And how do you reconcile a heart that lives in two places?
When I checked my emails this morning, I never expected an email alerting me to an exclusive preview of Jojo Moyes' Still Me – the brilliant third instalment of the Me Before You series. Naturally, I jumped at the offer and gratefully read the first eighteen pages of the upcoming book. And from first impressions, I just know this book is going to fly off the shelves when it lands in January.
Lou is back – plain and simple. Her personality, her experiences and literally everything else that we love about her is already being channelled into this story and I cannot be more thrilled. What I adored about the first two books in the series was the effect that went into Louisa as a character. Within the first page or so of chapter one, Lou's personality shines bright.
The plot for this book sounds absolutely amazing as well – so I can't wait to get my hands on a full copy of the book. I expect wonderful things from Still Me. It would be unjust to give the first chapter a score, but it has definitely set me up to finish the full edition when released. Waiting for January …
Different cover variations may be available depending on who and where the book has been published. It is normal for books to circulate different publishing houses from time to time. Still Me will be available in the following covers.