2017 is a bad year to have a new book coming out, because there is such a massive pool of talent, I have no idea how all these fabulous books are going to be recognised. But the year is also fantastic, in that all my favourite book series are coming back with the next instalment. All I can say is, yes please!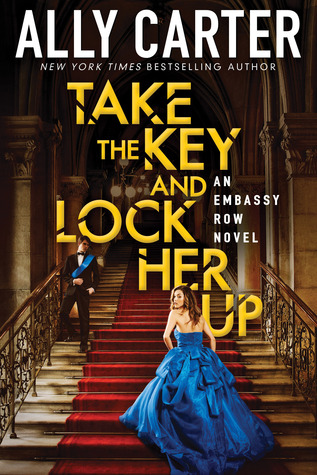 Title | Take the Key and Lock Her Up
Author | Ally Carter
Pages | 320 pages
Publisher | Orchard
Series | Embassy Row, #3
Release Date | January 26, 2017
THE PRINCESS IS DEAD.
LONG LIVE THE PRINCESS.

Centuries ago, the royal family of Adria was killed . . . or so everyone thought.
Now Grace Blakely knows the truth:

There was one survivor, and that survivor's blood runs through her veins. This simple fact could cause a revolution — which is why some people will stop at nothing to keep it from coming to light.

There is only one way for Grace to save herself, save her family, and save the boy she loves. She must outmaneuver her foes, cut through the web of lies that has surrounded her for years, and go back to the source of all her troubles, despite the risk.

If she wins, she will inherit a throne.

And if she loses, she will inherit the fate of all the dead princesses who came before her.
Title | Perfect
Author | Cecelia Ahern
Pages | 288 pages
Publisher | HarperCollins
Series | Flawed, #2
Release Date | April 6, 2017
Celestine North lives in a society that demands perfection. After she was branded Flawed by a morality court, Celestine's life has completely fractured – all her freedoms gone.

Since Judge Crevan has declared her the number one threat to the public, she has been a ghost, on the run with the complicated, powerfully attractive Carrick, the only person she can trust. But Celestine has a secret – one that could bring the entire Flawed system crumbling to the ground.

Judge Crevan is gaining the upper hand, and time is running out for Celestine. With tensions building, Celestine must make a choice: save only herself, or risk her life to save all the Flawed. And, most important of all, can she prove that to be human in itself is to be Flawed…?
Title | Mafiosa
Author | Catherine Doyle
Pages | 464 pages
Publisher | Chicken House
Series | Blood for Blood, #3
Release Date | January 5, 2017
A blood war rages on the streets of Chicago.

Protected by an infamous mafia family, Sophie is living a dangerous lie, pretending to lead a normal life. But the deceit can't last for ever. Her heart belongs to a killer and Sophie's the prime target of a rival clan. She's determined to seek revenge on her mother's murderers, but can she pay the price – can she be a mafiosa?
Title | The Ends of the World
Author | Maggie Hall
Pages | 288 pages
Publisher | G.P. Putnam
Series | The Conspiracy of Us, #3
Release Date | July 18, 2017
The Circle is hers.

But Avery West has lost everything else: her mother, the family she'd just found, and the one boy she trusted. In their place are unfathomable power, a staged relationship that makes her question every real feeling she's ever had, and a mission to find the cure to the virus that's made her own blood a weapon.

Then disaster strikes, turning Avery, Stellan, Jack, and Elodie into the most wanted people in the world. To clear their names and the growing rift between the families of the Circle before the world dissolves into World War Three, they'll have to make a desperate, dangerous final race for Alexander the Great's tomb. What they will find inside will mean the world's salvation—or destruction.
Title | The Witch's Tears
Author | Katharine and Elizabeth Corr
Pages | 320 pages
Publisher | HarperCollins
Series | The Witch's Tears, #2
Release Date | February 2, 2017
Can true love's kiss break your heart…?

It's not easy being a teenage witch. Just ask Merry. She's drowning in textbooks and rules set by the coven; drowning in heartbreak after the loss of Jack. But Merry's not the only one whose fairy tale is over.

Big brother Leo is falling apart and everything Merry does seems to push him further to the brink. And everything that happens to Leo makes her ache for revenge.

So when strangers offering friendship show them a different path they'd be mad not to take it…Some rules were made to be broken, right?
Email: childishlypassionate@gmail.com
Twitter: @passionchildUK
Instagram: @childishlypassionate