Title | My Best Friend's Exorcism
Author | Grady Hendrix
Pages | 336
Series | None
Publisher | Quirk Books
Release Date | May 2016
Find it on Goodreads and Amazon
Abby and Gretchen have been best friends since fifth grade, when they bonded over a shared love of E.T., roller-skating parties, and scratch-and-sniff stickers. But when they arrive at high school, things change. Gretchen begins to act . . . different. And as the strange coincidences and bizarre behavior start to pile up, Abby realizes there's only one possible explanation: Gretchen, her favorite person in the world, has a demon living inside her. And Abby is not about to let anyone or anything come between her and her best friend. With help from some unlikely allies, Abby embarks on a quest to save Gretchen. But is their friendship powerful enough to beat the devil?
Okay, so this book review has been a long time coming. I seriously mean that – when I finished reading Grady Hendrix's My Best Friend's Exorcism, I had planned to review it the day after – when the book was fresh in my mind and completely new to me. But it has serious taken me over SEVEN months to catch my thoughts about this book. Despite all the variables that have put me off, I think it's finally time I sat down and put out a review. I think the one way to describe the book is: spell-binding.
"I love you, Gretchen Lang. You are my reflection and my shadow and I will not let you go. We are bound together forever and ever! Until Halley's Comet comes around again. I love you dearly and I love you queerly and no demon is bigger than this!"
This book was completely out of my comfort zone from the get-go. Very rarely will I pick up an adult fiction book. I'm of average intelligence, but sometimes the writing style in adult fiction tends to be too complex for my little mind to comprehend. And when I was given this book, I assumed that it was young adult. So the complexity of the book made it a challenging read, but I was happy by the time I got through it and to the end. While it wasn't something I wasn't pleased with in the book, it would be unjust to penalise the author for it as I was reading something totally out of my comfort zone. And in all honesty, the sophisticated, in depth writing style was incredibly impressive – so hats off to Mr Hendrix there.
"Corn dogs," the exorcist said, "are all the proof I need that there is a God." 
Also, the book was definitely a lot darker than I expected, as it falls into the horror genre. Horror is something I avoid like the plague – it is not my style and I hate to be freaked out. My Best Friend's Exorcism definitely has its moments where I debated doing a Joey Tribbiani and hiding it in the freezer. But as I had a digital edition, I couldn't stick my kindle in the freezer. The plot however, is incredibly strong. Maybe it's because I avoid the style, but it was completely and utterly original. I hadn't seen that kind of plot anywhere else – not really in movies or anything either. Again, something I will point out is that the setting was the 1980s – something I was not around for so I didn't exactly understand a few odd references here and there.
"By the power of Phil Collins, I rebuke you!" she said. "By the power of Phil Collins, who knows that you coming back to me is against all odds, in his name I command you to leave this servant of Genesis alone." 
Of course it is only fair to give a mention to the fabulous cover that encases the brilliant novel too. It was admittedly (although I make no secret of it) one of the main things that drew me to the book in the beginning. Yet at the same time it was something that I used to mistake the book for young adult fiction too. However, the moody attitude of the novel and sense of isolation is tied together perfectly on the front cover. Whoever designed it did a wonderful job.
Brother Lemon and Abby looked at each other, eyes gleaming in the shadows, and then he stood up. Rummaging in one of his duffle bags, he pulled out an athletic cup and slid it down the front of his pants. He caught Abby staring.

"First place they go for," he explained. He adjusted himself and picked up a well worn bible."
I am glad that I read to the end to discover what happened to Abby and Gretchen. I was impressed with how their friendship withstood the novel. It was an all-around amazing read. The story definitely has a stellar ending, and I would more than likely recommend the book to someone who it would suit. If I overlook the fact that this was not in my comfort zone, the book earns a fabulous four stars. Perhaps I shall give Grady Hendrix's further works a read when I'm feeling brave, because I was quite impressed with this one.
Still unsure on whether this book is the one for you? Have a look at what other bloggers have to say.
Flavia @ Flavia The Bibliophile says "I highly recommend this book to those who like the 1980s, who like to read about the power of friendship, and those who are intrigued by the prospect of a book which mixes the spooky with the hilarious!"
Jackie @ Never Imitate says "I had expected to enjoy this story more than I did. "
Yvette @ Book Worlder says "I don't see myself rereading this one, demons just aren't my thing."
Usually a book goes through several cover changes in its lifetime. Most variation depends on the publishing location. My Best Friend's Exorcism is available in the following cover formats.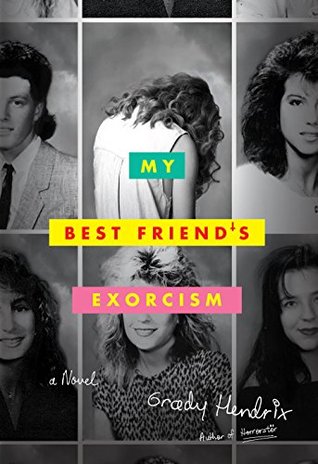 Cover 01 | 2017 Re-Design
Designed to fit in the eighties themes in the book, the cover looks authentic and fabulous.
Cover 02 | 2016 Original
Original cover that caught my attention really easily!
Grady Hendrix is the author of the novels Horrorstör, the only book you'll ever need about a haunted Scandinavian furniture superstore, and My Best Friend's Exorcism, which is like Beaches meets The Exorcist, only it's set in the Eighties.
His fiction has appeared in Lightspeed Magazine, Strange Horizons, Pseudopod, and The Mad Scientist's Guide to World Domination. He is one of the founders of the New York Asian Film Festival and his nonfiction has appeared in Variety, Slate, Playboy, Time Out New York, The New York Sun, and The Village Voice.
Email: childishlypassionate@gmail.com
Twitter: @passionchildUK
Instagram: @childishlypassionate